Cleveland Towpath is a website dedicated to the fresh air fun on and around the incredible trails, rivers, rocks and valleys of Northeast Ohio.
We profile the events, sports, activities and businesses that make the outdoor fitness lifestyle unique to Greater Cleveland.
We present these stories not only to promote hundreds of activities to the residents of Northeast Ohio, but to showcase our region to visitors considering their next vacation or business trip, too. Let's tell the world what we have here, and show them why they should come.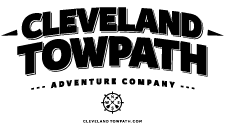 The Cleveland Towpath Adventure Company publishes this website and produces some of the events. But the majority of the activities found here are promoted in conjunction with the region's sports enthusiasts, restaurateurs, businesses, government agencies, and entrepreneurs. It's a collaborative effort that can only work when the best people and organizations are involved. So if you want to join us in this effort, please give us a call or send us an email.
Because promoting the Cleveland Towpath to the nation is gonna be fun…
— Allen Freeman
Cleveland Towpath Adventure Co.
a division of Cleveland Creative Inc.